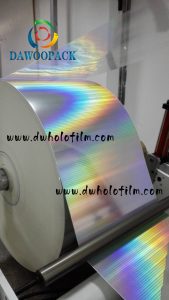 Holographic paper
Thickness:250gsm
Width:787mm,889mm.
In piece or in roll.
Usage:Offset printing and making paper box
Holographic transfer laminate paper with hologram image.
Lamination grade holographic paperboard,we produce pet holographic film first,laminate with paperboad,slitter it.
Transfer grade hologram paperboard,we use transfer holographic film laminate with paperboard first,peel off the film,then hologram image transfer to paperboard.